After this month's demo weekend, we asked Ross to take it for a spin and share with you his unbiased thoughts about the long-awaited Suzuki GSX-S1000GT ...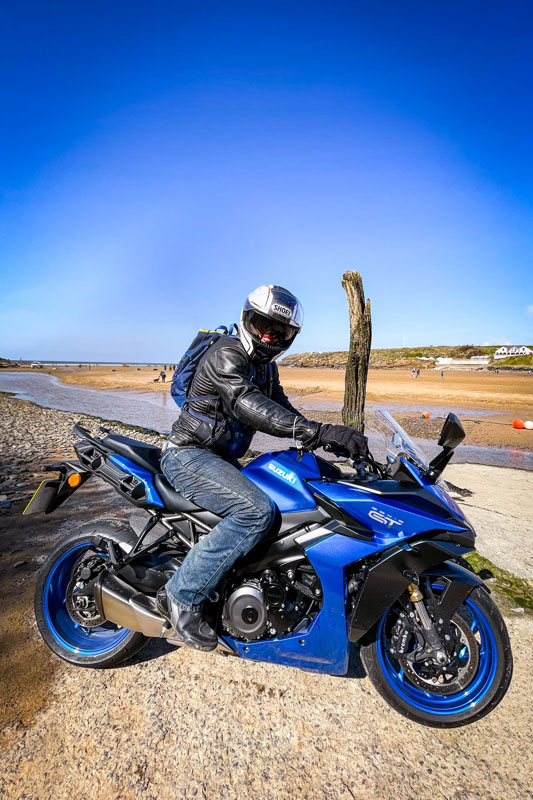 "It's fair to say the GSX-S1000GT has been a long time coming for Suzuki. For the past 10 years, Kawasaki have had the run of the sports tourer market here at Bridge. Although Suzuki's GSX-S1000F was a great bike, it never really challenged the Z1000SX in a meaningful way. A lack of integrated luggage and the feeling it was just a naked bike with a fairing held it back from being a real success. Things look set to change now though…
Looks are of course subjective, but the Suzuki has a distinctive design that seems to split opinion. This is no bad thing as ubiquity is often the worst trait a motorcycle can have! Suzuki seem to have pinched design elements from its competitors; there's more than a hint of Yamaha R1 and Kawasaki H2SX in there.
When you first switch the bike on, you're greeted by Suzuki's all new TFT dash. This is just one feature that shows that this is an all-new venture for Suzuki, rather than a parts bin special. The display is crystal clear with everything laid out sensibly and virtually no lag when changing through information or revving the bike. The switchgear all falls easily to hand, but I did notice it felt less premium than an equivalent Kawasaki, Honda or Triumph. The plastic seems to be a little harder and the feedback to button presses is less positive than competitors. Functionality is good though and it's incredibly simple to cycle through trip info or change riding modes (which can be done on the fly).
Out on the road, the engine steals the show. It has a great mid-range but open it up and the top end rush is fantastic. This is a bike that gets up to the speed limit (and beyond!) very easily. Handling is very neutral, with effortless turn in and excellent line holding. It suits a flowing A-road better than a tight twisty B-road though as it doesn't feel like a bike that likes being flicked quickly from side to side. The bike was absolutely in its element cutting across the A39 from Lynmouth to Minehead (if you've not ridden it yet, do it!). Adding to the smooth ride is the bi-directional quick shifter, which is easily one of, if not the best I've ever used. It seems to be utterly infallible at any engine speed, up or down the box and works with the lightest of touches. My one criticism in the way it rides is the front brake – it feels a little woolly and feels like it lacks any real bite. I felt comfortable the whole time and had no aches or pains after 250 miles in the saddle. I'd personally opt for Suzuki's touring screen as wind noise was quite high around 70mph and meant I could not hear the engine at all at anything over 60ish MPH.
The GSX-S1000GT comes with the option of detachable panniers, something most buyers seem to be opting for. They really do transform the bike from a comfortable sports bike to a genuine tourer. They clip on and off with relative ease and will swallow up a full-face helmet. I would say Kawasaki just edges out the Suzuki in terms of design and ease of use when it comes to luggage though, with their panniers sticking out less and being a little quicker and easier to attach and detach.
Overall, I was deeply impressed by the GT, and Kawasaki really do have something to worry about now. I'd say the Suzuki has the stronger engine, better quick shifter and nicer dash. The Kawasaki fights back with better integrated luggage, more technology (lean angle sensitive TC) and in my opinion, a better overall quality of finish. Looks are of course totally subjective, but my vote would go to the Ninja in this department. Both bikes are great and it's a tough choice between them – I'm far too diplomatic to pick one, I'll leave it to you to decide!"
(Disclaimer – although we do our absolute best to be as objective as possible in our reviews, we acknowledge our inherent bias as a dealer. We can only compare the bikes with those we've ridden, which are usually only from the manufacturers we sell.)