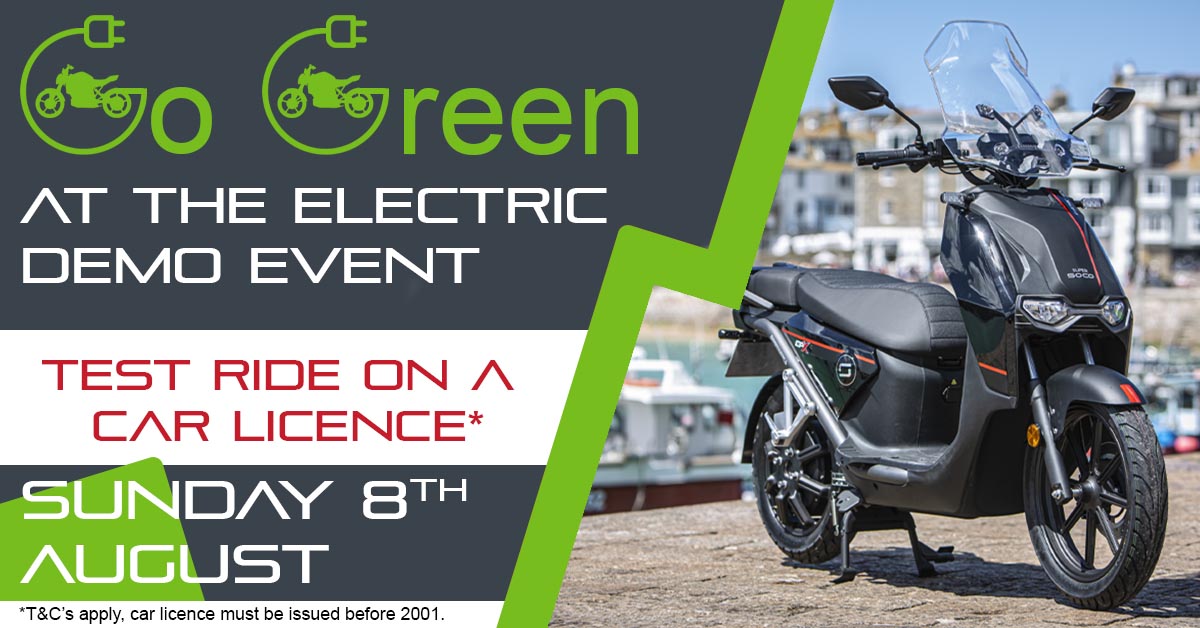 Call 01392 260 200 to book your place on our
Bridge Motorcycles' Super Soco Demo Day.
On Sunday the 8th of August, Bridge Motorcycles will be hosting the Super Soco Demo Event. This is a great chance to try out Super Soco's great range of electric motorcycles. These bikes offer a great alternative for people looking for an environmentally friendly and cost-effective way of getting around.
Why chose a Super Soco:
Range: Super Socos have an effective range of up to 87 miles on a full charge*
Charging: The batteries in a Super Soco take as little as 3 hours to charge from flat. Charging utilises a standard 3 pin house plug, via a transformer (like you get with a laptop). This means that there is no need to install any physical infrastructure in your home.
Cost to run: The average running cost for a Super Soco is only 1p per mile. When compared to a 50cc scooter which runs at an average cost of 3-4p per mile, the savings soon add up!
Electric machines also benefit from paying no road tax. With very few serviceable parts, electric scooters/bikes are also significantly cheaper to maintain than their petrol equivalents.
Licence: You are able to ride some of the bikes in the Super Soco range on a car licence (category B) if you passed your test before 2002. If you have passed your car test after 2002 you will need to hold a valid CBT or an A type licence (category: A, A1, A2, AM).
If you plan on test riding a Super Soco on a car licence (category B) or CBT this will be your only chance as our standard test ride insurance will only cover customers with a full motorcycle licence (category A).
About Bridge's Super Soco Demo Event:
Which bikes are on offer:
CUX – 50cc equivalent
CPX- 125cc equivalent
TSX - 50cc equivalent
TC Max - 125cc equivalent
When:
8th of August from 10:00 until 16:00
Where:
Bridge Motorcycles
Alphin Brook Road
Exeter
EX2 8RG
Call 01392 260 200 to book your place on our
Bridge Motorcycles' Super Soco Demo Day.
*CPX with dual battery option installed Based on 75kg rider in controlled conditions.